Family
Welcome to Thinkport's family section! Explore the topics below to find family programming, playful learning activities and games, and parent resources to guide family learning at home.
Join PBS KIDS to explore a new learning theme each week!

Visit PBS KIDS for Parents to find crafts, activities, games, and articles that inspire playful learning at home.
Get playful learning activities, information, and tips to help children play and learn while at home.

» Go Parent and Family Toolkit
Check out these short videos of our education staff demonstrating easy At-Home Learning activities you can try with your kids!
» Go to Learning Activities for Early Childhood
Sign up for this free resource to receive announcements and educational activities sent straight to your phone.

Hop online to find fun learning games, videos, e-books, apps and activities based on kids' favorite PBS programs.
Explore resources for the whole family from PBS KIDS for Parents.
A family media plan can help both kids and adults manage media use at home.
» Go to the American Academy of Pediatrics Family Media Plan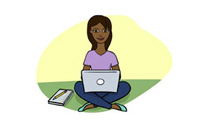 Get tips on setting guidelines for your children when they use TV, games, videos and the Internet, and find reliable learning resources for them to use when they do tap, slide and click.
» Go to Screen Time and Your Kids